by Capitalist ExploitsSunday, Jun 06, 2021 – 10:44
«We would be surprised if other countries (in the West) didn't follow in the footsteps of the Dutch.»
An energy crisis is not just inevitable. It is essentially guaranteed, not just by societal trends, but now by law.
This isn't anything new as the emissions thing has been going on for a while now. But it just stepped up a gear. We would be surprised if other countries (in the West) didn't follow in the footsteps of the Dutch. From the article:
"Royal Dutch Shell has lost a landmark legal case, with a Dutch court ordering the oil company to increase its emissions cuts in a ruling that could set a global precedent for corporate polluters.
Judge Larisa Alwin of the district court in The Hague ordered Shell to ensure its net carbon emissions were 45 per cent lower in 2030 than in 2019, a ruling she said would have "far-reaching consequences" for the Anglo-Dutch company.
Alwin said Shell's existing climate strategy was not concrete enough and added there was a human rights obligation on the company to take further action.
The ruling followed a legal campaign led by Milieudefensie, the Dutch wing of Friends of the Earth. Donald Pols, director of Friends of the Earth Netherlands, described the decision as "a monumental victory"."
It's not just Shell that is in the firing line. In essence, it is all the big majors. Check out this:

"A majority of shareholders at U.S. oil and gas producer ConocoPhillips (COP.N) on Tuesday voted in favor of setting emissions reduction targets that include the use of the company's fuels.
Few U.S. producers have set so-called Scope 3 targets, which take into account greenhouse gas emissions from customers using the fuel they have purchased, although their European counterparts have done so.
ConocoPhillips is among those that so far has outlined net-zero 2050 goals for Scope 1 emissions, which include its own operations, and Scope 2 emissions, which take into account the power generation to run its facilities.
The shareholder measure passed by 58%."
Then there is Chevron:
"Chevron Corp shareholders on Wednesday voted in favor of a proposal to cut emissions generated by the use of the company's products, a move that underscores growing investor push at energy companies to reduce their carbon footprint.
Shareholders voted 61% in favor of the proposal to cut so called "Scope 3" emissions, according to a preliminary count announced by Chevron at its annual general meeting.
Although the proposal does not require Chevron to set a target of how much it needs to cut emissions or by when, the overwhelming support for it shows growing investor frustration with companies, which, they believe, are not doing enough to tackle climate change."
Scope 3 – Limiting Revenue And Profitability
What the hell?! Are our eyes deceiving us? Limiting scope 1 and 2 emissions. But scope 3? Limiting revenue and profitability of a company… why not just wind up the company. This is absolutely incredible. We are lost for words.
There is no real need to limit scope 3 emissions. If you limit scope 1 and 2, you effectively limit how much oil and gas can be extracted in the first place.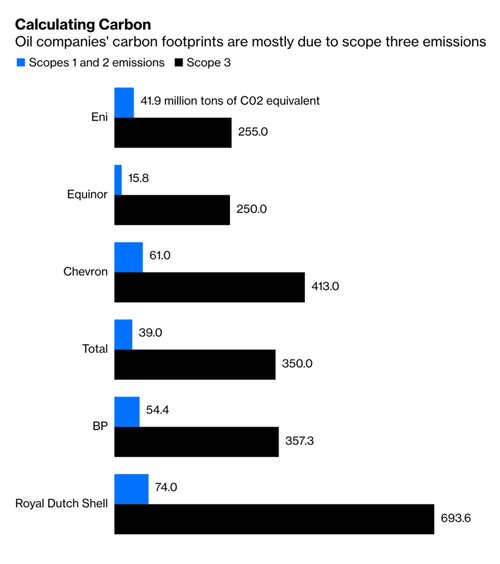 Exxon receives a handbag around the head from an less than insignificant hedge fund (owning 0.02% of Exxon shares):
"Exxon Mobil Corp. has been fending off a so-called proxy fight from a hedge fund known as Engine No. 1, which blames the energy giant's poor performance in recent years on its failure to transition to a "decarbonizing world."

In a May 26, 2021 vote, Exxon shareholders approved at least two of the four board members Engine No. 1 nominated, dealing a major blow to the oil company. The vote is ongoing, and more of the hedge fund's nominees may also soon be appointed.
While its focus has been on shareholder value, Engine No. 1 says it was also doing this to save the planet from the ravages of climate change. It has been pushing for a commitment from Exxon to carbon neutrality by 2050."
Woke Germans Aren't Woke Enough Says Court
Not to be left on the sidelines the "oh, so woke" Germans have hung up their lederhosen and gone and done the same thing:
"Germany's top court has demanded changes to Germany's climate law, saying it places too much of a burden on future generations to reduce carbon emissions, in a key victory for young climate campaigners.

The court said the law "violate[s] the freedoms of the complainants, some of whom are still very young" because it "irreversibly offload[s] major emission reduction burdens on to periods after 2030".

The measures the government had set out for the post-2030 period were "not sufficient to ensure that the necessary transition to climate neutrality is achieved in time", it said, and demanded authorities set out clear goals for reducing greenhouse gas emissions after 2030."
Hysteria Resides In The Woke Cult Of The West
Notice you don't hear this bollocks coming from Asians, Indians, Russians, Eastern Europeans, Middle Easterners, Africans, nor South Americans.
This attack on oil and fossil fuels is unrelenting. It has become an entrenched belief, otherwise known as religion or cult. This belief system won't be broken until a deep, prolonged crisis comes along.
As we hinted at above these new developments are merely another layer of icing on an energy crisis cake that's already baked. This is the real deal: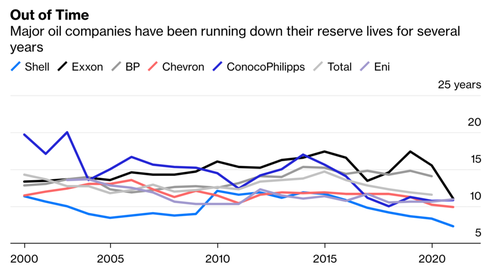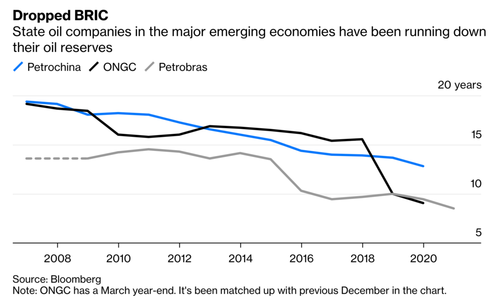 Higher costs for existing production and less willingness to take on new projects
All emotions aside, what is the big deal here? Higher costs for existing production and less willingness to take on new projects, which translate into significant supply restrictions.
The ability of majors and national oil companies to produce oil is being curtailed at breakneck speed. The crowd believes that not too much oil will be required 10 years from now. But the world doesn't have a replacement for oil (and fossil fuels in general).
We can't see any way out of this. The price of oil, and hence the cost of EVERYTHING else, is going much, much higher. But when (not if) oil gets to $130 a barrel (or somewhere up there), there won't be the ability to bring new supply online in any material sense to bring the price back down. And it is at this point that resource nationalism and military might will become extremely relevant.
Remember the two oil crises in the 1970s?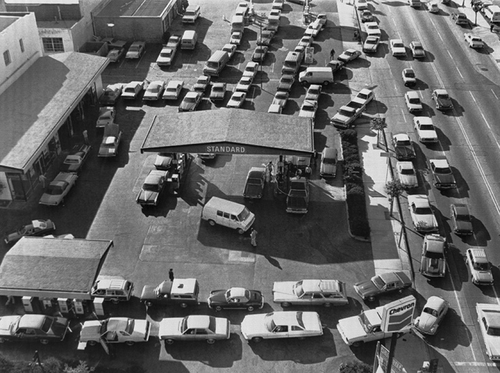 Both were essentially due to the Arabs turning off the taps. Eventually, when the Arabs came to their senses, the supply of oil was brought back online and the oil price came back down.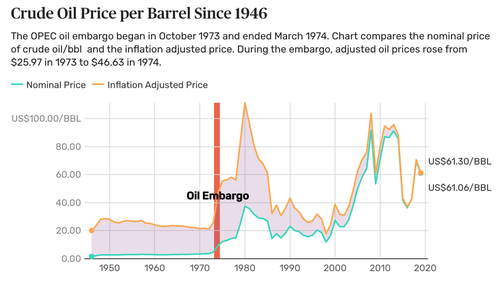 I am reluctant to say "this time it is different". However, the situation now is "diametrically" different from the 1970s. Soon the world will discover that there aren't any spare taps to turn on.
We have this awful feeling that the coming energy crisis will make the 1970s look like a gentle Sunday stroll. Part of us knows our positions will likely be running like the police are after them but another part understands that our quality of life will be suffering significantly at the same time.
The Good News
Non-OECD oil producers just got confirmation they're going to rule the energy landscape, probably for the next few generations. This is massive, folks because, as I've said so many times before, you ain't got no political security without energy security, and that energy security is going through a self-demolition the likes of which this world has never seen before.
Be long, but be sure to be long non-OECD because there really is no point in buying an energy company that is either "woke" or unfortunately domiciled in a country where the Bolsheviks are in control and putting a gun to their heads saying, "stop doing what you're doing."